A GREAT BIG THANK YOU!
Every year, the Ault Business Alliance plants fresh flowers in front of the ABA member businesses and it really brightens up the town.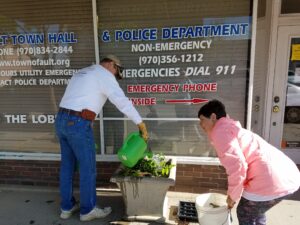 Thank you to all the servants who volunteered yesterday for our service to the town and plant all of the concrete flower pots around town. We once again we showed the town we love Ault and are dedicated to the physical and spiritual needs of everyone. We also had a really fun time together!
Thank you and may God bless you for your selfless service!